The 2007 Materials Research Society (MRS) Fall Meeting concluded in Boston on November 30. The images was taken from Science as Art competition that was held at MRS.


Nano-Explosions Color-enhanced scanning electron micrograph of an overflowed electrodeposited magnetic nanowire array (CoFeB), where the template has been subsequently completely etched. It's a reminder that nanoscale research can have unpredicted consequences at a high level.



Dirty Dice Self-assembled 200 micron size nickel dice, imaged using scanning electron microscopy in the lower secondary electron (LEI) mode. The dice were colorized using Adobe Photoshop.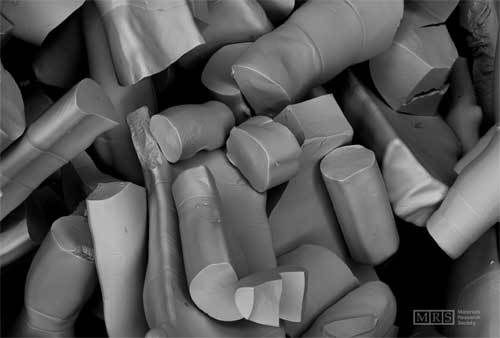 Bamboos for Vibration Control Ni-Mn-Ga melt-extracted fibers with an approximate diameter of 100 µm showing a bamboo-type structure



Beauty of Nature SEM image of CuInSe2 film with Cu2Se (plates) and InSe (needles) crystals on the surface.




Layered steps in Lanthanum Cobaltite The picture shows a colored image of the layered steps formed inside closed pores of La0.8Ca0.2CoO3, which were revealed due to fracture of the material.